Product Questions
How do I care for my candle?
Always let your candle melt all the way to the edge of the jar before extinguishing. Trim wicks only if you notice excessive buildup or folding/curling over. Do not burn candle for more than 4 hours at a time.
Shipping Questions
What shipping carrier do you use?
We ship with USPS and UPS, depending on your location.
How long does shipping take?
All items leave our shop within 3 business days and should be in your hands within 7 business days.
Customer Reviews
Write a Review
Ask a Question
08/24/2023
Lisa M.

United States
Great girlfriend gifts
I gave much thought and selected one of your candles for my core group of 6 gal pals. They all loved them and appreciated that I gave them for no special reason, just to celebrate our friendship
07/21/2023
Beckington L.

United States
This candle is just fine, but I also bought the listen Linda candle, and when I received it, it was all broke. I took a picture and send it to an email for your company but nobody has got back with me yet.
05/28/2023
Danielle D.

United States
Get this candle!!
I got this as a present for teacher appreciation week and it's one of the best candles I have gotten in a long time! Its scent is strong but pleasant. It smells warm but refreshing. It's like hitting all the scent notes you need. It honestly smells like a thick buttery body butter. I got this candle like I said for teacher appreciation week so like around may 10th and it's almost completely burned down because we light it all the time. I want to order other candles to see what they smell like but man this one is just wonderful!!!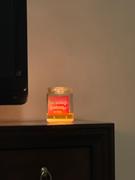 01/06/2023
Greta S.

United States
You can't steal my joy today!
When life knocks me down which it does a lot with some health issues, I take up my cross and light this candle. It reminds me that I surrendered my problems to Jesus and today the enemy can't steal my JOY! The scent is so calming.
01/05/2023
Courtney S.

United States
Love this!
This is my first time trying a Bossy Pants candle and I am not disappointed. I love this scent. It smells very familiar to something I've once smelled before. I love it. The throw is a medium. It's nice!!