I haven't had my coffee yet. Don't make me kill you. 
For the coffee lover in your life. Smells like vanilla beans, coffee beans, and cocoa beans blended together.
16 oz
Double wick
50+ hour burn time
All natural soy wax
Lead-free cotton wicks
FREE US shipping when you spend $60!
Customer Reviews
Write a Review
Ask a Question
01/15/2021
Melissa K.

United States
Simply the best
Words don't describe how amazing Bossy Pants candles are. Not only are they fun, they smell fabulous from the moment you open the box. We don't deserve you!
KM
11/13/2020
Katherine M.

United States
So GOOD!
For a coffee lover like myself this is the perfect aroma. Love the asthetic, makes a great gift.
10/12/2020
Leslie S.

United States
Love!
I have bought 3 different candles. This one is a Christmas present and the other two are for birthdays next week. I can't wait to give them to their new owners!!
09/18/2020
Eric M.

United States
Death Before Decaf Is A Dream!
No, I'm not standing in the corner of my coffee book sniffing the **** out of this candle for a mid-day pick me up. I love chugging coffee. I love coffee candles. This one is amazing. That's all I have to say. Really. Get this candle if you're a caffeine addict like me. But - I don't recommend drinking it. Because that's ******.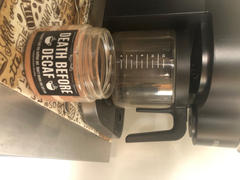 09/15/2020
Kaylee K.

United States
Buy it.. you won't regret it!
This candle scent matches the sticker on the front to a T! Smells soo good! The soy makes it burn slower so I can enjoy it longer! Best candles and candle I've purchased in a long time!