Product Questions
How do I care for my candle?
Always let your candle melt all the way to the edge of the jar before extinguishing. Trim wicks only if you notice excessive buildup or folding/curling over. Do not burn candle for more than 4 hours at a time.
Shipping Questions
What shipping carrier do you use?
We ship with USPS and UPS, depending on your location.
How long does shipping take?
All items leave our shop within 3 business days and should be in your hands within 7 business days.
Customer Reviews
Write a Review
Ask a Question
03/03/2022
Harley E.

United States
Love It!
I was really happy with my purchase. Obviously it smells fantastic, and looks great. A fantastic purchase from a little retail therapy. :)
02/11/2022
Megan K.

United States
Fantastic gift
This is my wife's favorite candle and has been getting added to all orders recently. It does an awesome job of filling the room without being overpowering.
12/17/2021
Alyssa A.

United States
My Go To Gift
Perfect gift for a close friend! This candle smells phenomenal!
03/02/2021
Cassandra R.

United States
The BEST candle
This is my first (and definitely not last) Bossy Pants candle. I am OBSESSED with the smell. It is luxurious, warm, creamy, with a little bit of spice. This is exactly how I want my home to smell. Actually - I would wear this scent if I could. The scent spreads quickly upon lighting and promotes feelings of comfort. This is definitely a new staple in my living room.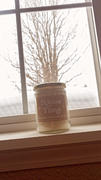 12/03/2020
Leah S.

United States
Best Title Ever
My moody boyfriend always asks for "alone time." Now that I technically bought it for him, I can tell him I already gave it to him! Candle smells great! I love that the note I customized is on a separate sheet of paper so he could actually see it. One of those special touches! I plan to order candles for some of my teachers at school too!