Product Questions
How do I care for my candle?
Always let your candle melt all the way to the edge of the jar before extinguishing. Trim wicks only if you notice excessive buildup or folding/curling over. Do not burn candle for more than 4 hours at a time.
Shipping Questions
What shipping carrier do you use?
We ship with USPS and UPS, depending on your location.
How long does shipping take?
All items leave our shop within 3 business days and should be in your hands within 7 business days.
Customer Reviews
Write a Review
Ask a Question
08/05/2022
Marjerrie V.

United States
Perfect Goofy Gift
Love the candle! I've gotten it for two of my lady friends and they both enjoyed receiving it so much and say it smells amazing!
08/04/2022
Sidney F.

United States
Smells like heaven
This is one of my favorite candle sayings from bossy pants and it smells exactly like the fruit loop cereal. It was the perfect grad gift. I can't wait to buy more!
08/03/2022
Rebekah

United States
Insane!!
I don't understand how this smells EXACTLY like box of Fruit Loops but it really does!!! The scent is perfect but not overwhelming. I sometimes even get whiffs of it isn't burning but the lid is off which I love! Every Bossy Pants candle burns so well and evenly, cannot recommend these enough!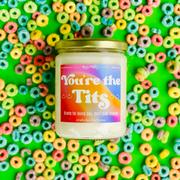 08/02/2022
Casey B.

United States
Loved my candles!!
These candles made such fun and great gifts!! They all smell so amazing too. The fruit loops You're the **** candle smells so freaking good! Buying one for all my friends and myself soon haha
07/28/2022
Mary B.

United States
Perfect gift
This was a gift for a friend going through a rough time. She thought it hilarious and loves the scent. Thank you, Bossy Pants!