Product Questions
How do I care for my candle?
Always let your candle melt all the way to the edge of the jar before extinguishing. Trim wicks only if you notice excessive buildup or folding/curling over. Do not burn candle for more than 4 hours at a time.
Shipping Questions
What shipping carrier do you use?
We ship with USPS and UPS, depending on your location.
How long does shipping take?
All items leave our shop within 3 business days and should be in your hands within 7 business days.
Customer Reviews
Write a Review
Ask a Question
Love this membership
I loved all the candles received so far!
03/22/2022
Ellen H.

United States
Obsessed with Bossy Pants!
Each month the Secret Scent does not disappoint! Clever labels and great candle scents are such a fun surprise! I look forward to what's in store every time!
02/25/2022
Vickki

United States
Candle of the month
I love this candle and love your company! I can't thank you enough for sending me another candle,after not receiving my first one. It's hard to find companies that care anymore, and you proved you do care! You have won me for life! I can't thank you enough, and I wish nothing but the best, and I hope all of your customers know jus how much you care about them and your products!
02/18/2022
Trish E.

United States
A monthly treat to myself
I ADORE the Secret Scents Club. When I get my Candle of the Month, it is like opening a birthday present - I love the surprise, and trust that they make amazing scent profiles with witty titles. This is the best self-care gift that I give myself, and I love that I get to support a badass small business in the process.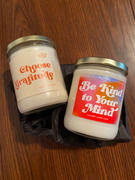 01/29/2022
Addy L.

United States