Join our Secret Scents Club and get a brand new, exclusive, unreleased 16 oz candle delivered to your doorstep every month! Did we mention it ships for FREE?! You'll never get a deal as good as this one on a Bossy Pants Candle!
It's 100% risk free, you can cancel your subscription at any time for any reason. 
Every month, you'll receive a full size 16 oz candle with a surprise name + scent! Your candle will ship within 1 week of your payment processing. 
Secret Scent Club candles may or may not be made available for purchase after their month is over. This may be your one and only chance to experience unreleased Bossy Pants scents!
Billing Details
You will be billed each month on the day that you initially purchased your subscription. If you're purchasing this subscription on the 10th of the month, you'll be billed again on the 10th of next month, and your next candle will ship shortly after the 10th. Want to change your billing date? No problem, just send us an email!

You can pause or cancel your subscription at any time for any reason. You can manage your subscription by simply creating an account on our website, and logging in. 
Customer Reviews
Write a Review
Ask a Question
Come for the vibe, stay for the goods
I love these candles! I came for the sassy attitude and cool vibe, but the candles have never disappointed! They've all lasted for ages (the traditional large two-wick one I can burn for a couple hours each day and have it last a couple weeks), they burn cleanly and smell beautiful. Customer service has been equally excellent, and I love supporting a small (ish?) business! Thank you!
05/02/2021
Nicole D.

United States
Best Candles Ever!
I look forward to receiving my "candle of the month" and they never disappoint! The candles always have a wonderful scent and fun labels that I get compliments on from all of my house guests. Can't get enough from Bossy Pants!
05/02/2021
Alicen H.

United States
Candle subscription... you know you want to!
I'm like a kid impatiently waiting for my delivery each month! I love the surprise factor; the candle quality and scent is top-notch! They burn clean nearly to the bottom and fill my small house with just the right amount of aroma. Sign- up - you won't regret it!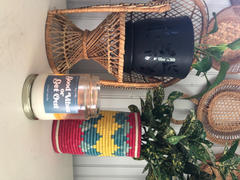 04/06/2021
Beth S.

United States
Good Vibes or Get Out
This candle gives all the vibes of being in a tropical place. Fresh beach air, warm sandy beaches, and floral scented breezes--everthing to take me away from the daily grind!
04/02/2021
Jessica M.

United States
YASSSS Candle of the Month
The candle of the month is by far the greatest thing. The smells and labels are amazing. So how, each month, they get better and better. It's such a fun surprise in the middle of the month. I love them!!