Product Questions
How do I care for my candle?
Always let your candle melt all the way to the edge of the jar before extinguishing. Trim wicks only if you notice excessive buildup or folding/curling over. Do not burn candle for more than 4 hours at a time.
Shipping Questions
What shipping carrier do you use?
We ship with USPS and UPS, depending on your location.
How long does shipping take?
All items leave our shop within 3 business days and should be in your hands within 7 business days.
Customer Reviews
Write a Review
Ask a Question
09/01/2023
Ashleigh M.

United States
THE BEST
I wish this was available year round! I absolutely LOVE this scent, perfection in a candle :)
08/24/2023
Jo R.

United States
Amazing!
Love love love all of bossy pants candles. The burn time is phenomenal and they smell SOOO yummy. Forever a bossy pants candle girly!
09/04/2022
Eric M.

United States
Have you been saved by our lord and savior, the Ghost Stories candle?
This candle changed my life. Between the smoky sweet campfire marshmallow scent and the crackling woodwick - I measure my life from before I lit this candle for the first time, and after. If I had to capture spooky season in a scent - this is it. And also the reason why I bought 4 of these candles already and also ordered the scent in large pumpkin jar. Your life truly begins when you surrender it to the Ghost Stories candle. You will be forever changed by the way it touches your soul.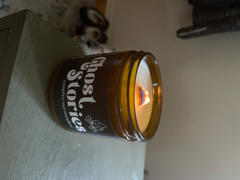 09/01/2022
Juli W.

United States
Love love
Love this candle smells great
08/30/2022
Rebekah

United States
All the bonfire with no smoky hair
I really love wood wicks, especially in the fall/winter! The subtle crackling is so soothing, and it's the perfect pairing with this scent of campfire marshmallow. I absolutely love a good bonfire in the fall, but hate how it makes my hair smell like smoke for approximately one eternity afterwards. This candle is all the good things about a bonfire (the sound, the smoky but sweet scent of making s'mores on an open flame, the comfort and nostalgia of a campfire) but with none of the drawbacks (smoky hair, empty calories, burned grass because we made the fire too hot). I think I'm just going to burn this on my porch every night instead of ever lighting our fire pit!