Product Questions
How do I care for my candle?
Always let your candle melt all the way to the edge of the jar before extinguishing. Trim wicks only if you notice excessive buildup or folding/curling over. Do not burn candle for more than 4 hours at a time.
Shipping Questions
What shipping carrier do you use?
We ship with USPS and UPS, depending on your location.
How long does shipping take?
Please see the website banner (top of screen) for current processing time. Transit time is 2-4 business days once shipped.
Customer Reviews
Write a Review
Ask a Question
Secret Scents Club
I have been a subscriber to the secret scent club and customer of Bossypants for over a year. The secret scents club is my favorite subscription box. I love having a new scent to use throughout the house. I get the wax melts for the scent club but I also have a ton of their candles. All have long lasting and amazing scents! The candles are always a hit as gifts. Lauren and her team also provide fantastic customer service and consistently have gone above and beyond.
11/09/2022
Ryann G.

United States
Secret Scent- October
I was so excited about this scent! I opened the package and it smelt so good! BUUUUT when I put it in my warmer….nothing. I tried one at first as I do with them all. Then I did two hoping to smell something. Still nothing. I am so sad about this one! I was really hoping it was going to put off a really strong throw but instead I couldn't smell it at all and neither could any of my family members or friends. Maybe I got a bad one? Either way I'm super disappointed with it.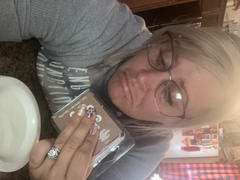 02/25/2022
Shannon B.

United States
Melt of the Month
I love getting a new scent every moth. Beyond the melts smelling amazing, they are always on theme for the month and session. Lauren and her team are also fantastic at making sure the customers are taking care of. The melts and candles are high quality.
12/15/2021
Erin L.

United States
I "Choose Gratitude"
I love Bossy Pants scents, and always enjoy getting a new one each month during my Scent of the Month subscription ❤️
11/25/2021
Kayla H.

United States
Melt if the Month!
I'm really enjoying my Melt of the Month. I've had two so far and they both smell great!